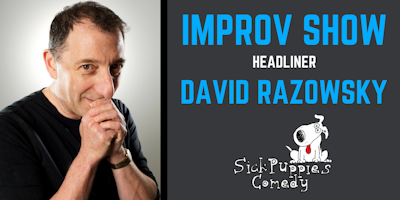 Buy Tickets
Sick Puppies Comedy Show Improv with Dave Razowsky
$25 at the door or $20 online.  For $9.99/mo, you can purchase a show pass at www.spcshowpass.com and use your email…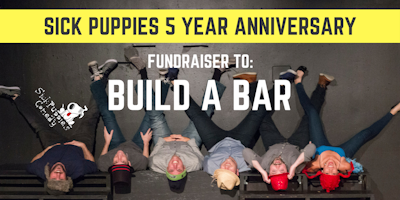 Buy Tickets
Sick Puppies Comedy Show Improv Bar
We are creating a bar at our theater and we need equipment, licensing and inventory!  We'd love to pre-fund the…
Latest Event Updates
Image Posted on
We are so excited to have Sarah Hendricks join the Sick Puppies Comedy Cast.  She's a real pleasure to work with and just the kind of sick mind it takes to deal with all of us.  Welcome to the cast Sarah!
Sarah has always loved performing, whether it was theatre, dance or just tap dancing down the isles at Costco to see how annoyed she could make her mom. She graduated from Florida Atlantic University in 2010 with a BA in Multimedia Journalism, in hopes to become the next Guiliana Rancic, and has done nothing in the industry since. Instead, she pursued marketing, public relations and events, occasionally dabbling in comedy. It wasn't until she was introduced to Sick Puppies that she fell in love with improv. Sarah is honored to be a part of the Sick Puppies cast and continue to make people smile!
Friday night.  Prime Time. In New York City.  It's the place. THE PLACE.  It's year 2 for Sick Puppies performing at DCM.  This year the team performing has dedicated themselves over the last 2 years to become an entire entity of their own: Daddy's Little Nest Egg.  Comprised of John Duffy, Eddie Seage, Nick Henriquez, Aaron Blye and Ben Brouckaert, this team has figured out their own style, their own vocabulary, their own following and their own culture.
This team has their own show at Sick Puppies Comedy once a month and every month has gotten better from the last.  4 of the 5 players (John couldn't make it) are in New York right now getting ready to hop up on a legendary Upright Citizens Brigade stage for a 7PM showtime for arguably the largest improv festival, DCM.
The dedication these guys have for the craft and each other is inspiring.  They brought on Kat Kenny of Bob Carter's Actors Rep/Kat Kenny Improv as a coach and that was easily their smartest move so far. Kat is a real joy to improvise with, but she is another level as an instructor.
As the director of Sick Puppies Comedy, I could not have imagined the strides we have made in the last 5 years.  Daddy's Little Nest Egg is evidence that our improv community is working together to create something far bigger than any one individual.  I have learned so much from our cast and students and whether they know it or not, they fuel me every day to be better as a director and as a player.  I am so proud to be part of this company and lucky to call Daddy's Little Nest Egg part of Sick Puppies Comedy.
Knock 'em dead gents.  We are so excited for you.
Let's get one thing out of the way.  The owner and the new employee are shacking up.  There is favoritism, special favors and repeated abuses of policy.  They have kids together and in fact, they live together.  It's Courtney Casperson, the new general manager of Sick Puppies Comedy.  She is reportedly married to Casey.  She's funnier than him and has a better sense of business.  She's kind, fair and fun.
She recently made the move away from her career of 15 years so she could help grow Sick Puppies Comedy in a way that Casey could not.  She worked from the bottom of her previous company and fought her way to become Director of Finance.  Her experience in finance, payroll, inventory, employee management and cash will address many of the long standing issues Casey has created in the last 5 years.  With the increase in classes, shows, students, cast and workshops, it was long overdue.
Her experience will add another layer of expertise to the corporate services Sick Puppies Comedy provides.  In addition to team building, sales training, public speaking and leadership creation, Sick Puppies Comedy can consult on the corporate books to better assess results and serve our clients on the front and back end of their operations.
We are excited to have some accountability in the company since the owner continues to spend money on twizzlers and spitcoin (as he believes it's bitcoin).  Feel free to congratulate Casey for finally convincing her to join the company.  She's pretty fantastic.
Sick Puppies Comedy is officially announcing their first Internship opportunity!  If you are interested in getting some experience in theater, we have a couple of spots available.  In addition to the experience, you can also take our classes for free as well.  Commitment time is relatively low, but crucial to making sure our shows go smoothly.
If you are interested, email us at woof@sickpuppiescomedy.com or give us a call at 954-667-7735.
I've changed the names and relationships mentioned in this story for the privacy of my clients.
Today, Mindy started our coaching phone call by saying "Casey, I'm so proud of the fact that I can be myself and be successful."  Here's why.
Mindy joined a mortgage company about six months ago.  I won't bore you with all of the details, but it's important to know that when she started there, leads were provided to her as calls from advertising were routed to her phone.  She was more of an order taker and a customer service associate than a salesperson.  In her first few months, she was able to close 12-15 loans a month which made her quite successful.
When interest rates began to move upward at the end of last year, the incoming leads  slowed down and Mindy was forced to source her own business.  In January, she closed 5 loans and just 5 weeks ago, in February, she only closed 3 loans and was put on notice.
A friend of hers had worked with me in the past and recommended me.  That's how Mindy and I began our coaching relationship.
I could tell there was some panic in her tone and that she didn't know what to do.  She was making outbound phone calls and believed the reason why she wasn't getting business was because her voice message she was leaving wasn't good enough.  She wanted me to give her notes on the words in her message.  "Hello, this message is for —-.  This is Mindy calling from ABC Mortgage and I wanted to let you know we are reviewing your account.  Please call me at 999-999-0000".  I told her the words seemed just fine, but the tone sounded "scripted".
"How do you feel when you are leaving this message?"
"Ok. I guess."
"Well then, that's how your prospect feels when they hear your message.  Would you want to call someone back if they didn't sound like they cared?"
This was an opportunity to introduce emotion and empathy: two core skills of improv.  
"Your customer is only going to feel as much emotion as you feel.  And by they way, tell the truth on their voicemail.  Something like 'Hello Mr. Customer, this is Mindy at ABC Mortgage. We did your mortgage a few years back and I wanted to see if you still had that loan. If so, I think we might be able to put you in a better position.  Either way, call me back please.' Don't leave a customer hanging.  Give them enough information to determine whether they feel like they need to call back."
This was the first time Mindy had ever done phone sales.  She told me about some of the lines people were feeding customers and so I asked:
"How many of their commitments turn into loans?"
"Not many, now that you mention it."
"How many of yours end up closing after they commit?"
"Most of them."
"Why?"
"Because I follow up with them?"
"That's important. But I think it's something else.  Keep going."
"I don't know.  I get better qualified customers?"
"Do your facts ever change?  Does your story ever divert? Do you have to constantly re-explain things to your customer?"
"No."
"Exactly.  You don't realize this, but the reason why a customer is so much more likely to close with you over everyone else is because you are honest with them.  When they commit to you, they do so based on what you say up front.  If your story changes, if your narrative stops making sense, your customer, aka, your audience, can feel it.  They will leave your 'show'.  It's so important to understand that even though you may not get as many commitments as others in your office, it's far more valuable to be closing at higher percentage.  In other words, ignore the 'activity' buzz and worry about closing."
"So why am I not closing more loans?"
This is where the real coaching began.  Mindy had become victim to the office culture.  In improv, we look for ways to accept our surroundings so we can begin to ask "If this is true, what else is true?" It's a safe construct that allows us to discover the space and characters that affect this world while we are on stage.  In business, we can also fall into this construct.  We watch how our co-workers work, we listen to what our managers tell us, we read production reports and we begin to accept our limitations.  
that office was the only experience Mindy had with mortgage.  She began to believe that she was not going to be able to make it.  She watched her co-workers stop producing and she believed that it's a company issue and there was nothing she could do about it.  
Look For The Producers
"Is anyone producing any loans right now at a high level?"
"Yes. There are 4-5 of them that still are."
"Have you asked what they do?"
"Well, all I know is that they get the premium leads and are on a special list.  I think they also get handed special leads."
"Have you verified this?  And if it's true, do you happen to know how they made it on that list?"
"No."
Every sales office has top performers.  If the company has productive members, your job should be to figure out exactly what they are doing.  What does their day consist of?  Are they receiving preferential treatment?  What is it going to take to be at their status so you can receive the same treatment?
The best script will never replace dials. 
"How many calls are you making a day?"
"20-25 a week… I used to get 4-5 incoming leads a day, but now it's maybe 1 a day.  So, I make outbound calls to make up for it."
"How many loans have you closed based on your outbound dials?"
"One"
"Seems like a waste of time doesn't it."
"It does.  Thank you for saying that.  Everyone in the office thinks our call list is completely overcalled and worthless."
"Good. Let them think that way.  Because I want you to start making 50 dials a day.  250 calls a week.  If you are able to close 1 deal per 25 calls, you'll start closing 10 a week.  If there is one deal per 25 calls in that list, you're not wasting your time, you're wasting your energy complaining about it.  It's time to make calls.  It's time to get excited every single time somebody tells you 'No'.  It's time to fail and get really rich doing so."
It's Time To Fail
She didn't like this.  She was hoping I would have a better script.  She was hoping that I would be able to unveil the magic lead list.  She was hoping that I would send her a magic pill that she could take every morning that would magically turn her voice into a magic spell.  
This was the moment she was about to improv her business.  She was going to feel what it feels like to fail over and over and over and over again, just like an improviser does.  I remember learning from my first improv instructor, Gerald Owens, saying "You don't have have to win the entire show.  You just have make more good decisions than bad ones.  If 51% of your show is good, you've fallen forward."  We make everything up on the spot!  What carries us is our commitment to the scene.  Our mistakes become part of the result.  They are not good or bad.  They are just the result.  This is the same concept in sales.  The moment you can realize that a sale is not one single transaction, but a predictable result based on a duplicatable model, you begin to celebrate the rejection just as much as you celebrate the closings.  
I knew that Mindy was stunned, but she committed to make the calls.
The following week, she was officially been placed on notice.  I told her to ignore that for now because that notice had nothing to do with the work she put in last week and the work we were about to put in this week.  She accepted that because she informed me she was only able to make 50 calls in total (double her highest week of calls) but got 3 people to commit!  Mindy was so excited by the prospect that she could originate her own business.  The numbers that week proved to be slightly higher than our initial guess.  
She informed me that it was really difficult to make more than 10 calls a day because it was taking her 20 minutes to research the lead prior to calling.  
"This is common Marty.  We don't want to call someone that we don't think can qualify.  We don't want to call someone that someone else might have recently called.  We don't want to look stupid.  We don't want to call people… do you hear what this sounds like Marty?"
"Excuses."
"Exactly.  Here's your challenge this week.  Pull up a list of former customers and just dial.  While the phone is ringing, click around to see what might stand out, but do not pre-qualify your leads before you talk to them. Just dial."
"But what if someone else is working with them?"
"Thank them for working with us, apologize for the redundancy, ask if they have any questions, put notes in the file and move along.  These people don't know you and you don't know them. Who cares what they think of you.  They'll forget you in 5 seconds after the call.  You are in an improv scene in every call.  Nobody remembers every improv scene."
Since week two, Mindy has consistently made more calls each week.  She's up to 100 a week.  Every week we revisit character choices, who she is to the customer, what they mean to her and her role in this whole thing.  We have to get her mind in a place that is comfortable with failure.  We role play scenarios to help her understand that her words are always correct because she is telling the truth.
Which takes us to yesterday. "Casey, I'm so proud of the fact that I can be myself and be successful." Mindy informed me that just 7 weeks after beginning our relationship, she closed 11 loans in the month of March.  I know.  March isn't over, but in mortgage, the month was over last week.  9 of Mindy's loans were originated on her own and she has 6 deals pending to close between this week and next.  She is likely to pace to a 20 loan month.  She went from being on notice, to being in the top 20 producers in a company with 100+ originators.  She got a raise.  This is just the beginning.
I'm so proud to be able to tell this story and have Mindy as a client.  If you are curious as to how improv can benefit you and your business, please contact us.  954-667-7735 or woof@sickpuppiescomedy.com