Buy Tickets
Improv Acting Class For Beginners
Improv Acting Class (No Experience Required) $275 For 7 Weeks. See below for more payment options. 7 Week Improv Acting…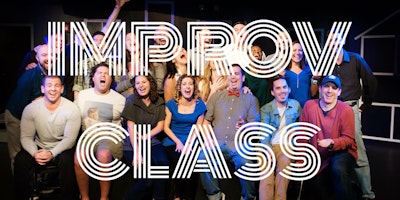 Buy Tickets
Improv Acting Class For Beginners
Improv Acting Class (No Experience Required) $275 For 7 Weeks. See below for more payment options. 7 Week Improv Acting…
Latest Event Updates
He was one of our very first students.  He was King Triton.  He was funny.  He was the theater owner that reached out a helping hand.  He was a mentor.  He was everyone's best friend.  Most importantly, he was an unbelievable father and husband.  Steve Dubin passed away on Saturday, September 16th, 2017.  He was only 45 years old.
I'm writing this less than 24 hours of his passing, so I don't have many details regarding his memorial or other details.
I met Steve in the fall of 2012.  We had recently started performing shows at Showtime Performing Arts in East Boca and a handful of people had asked us to start classes.  Steve, who's daughter was an actor/dancer at Showtime joined our very first class, later to be named "Incognito".  It was a special group.  Just 5 students.  I still have a close relationship with all of them.  In fact, Jesse is one of our cast members.  I'll keep the rest more private.  Steve didn't do social media.  He was a private guy.  The only way you would know what was happening is by picking up the phone when he called or meeting him for a beer or when we crossed paths at the Theater.
In one of our classes, there was a newer student that joined the group that was problematic.  So much so, that other students were uncomfortable with continuing if that person was going to be there.  I was very unsure of myself and didn't know what to do.  I did the less professional thing and called each student to ask what to do.  I got some great advice from everyone, but I remember Steve saying "You just have to realize that this is your company and it's up to you to make it the way you want it to look.  Part of that is making hard decisions, having hard conversations and hurting people's feelings."  He probably wouldn't remember that discussion, but it has served me well over the years.
That particular class was special because many of our cast members were just as green to improv as the students.  Sometimes their showcases would make our shows look like we were the students.  We acted more like an improv troupe that I coached than a group of students.  I had created an individual and unique relationship with all of them, especially Steve.  He's only 7 years older than me, but when you're 33, a 40 year old is still way older.  Today, I feel like at 38, Steve and I are really about the same age.
He has two lovely children.  He talked about them a lot.  Bragged about them.  So proud of what both of them accomplished and what they were going to do for the world.  I'll save the specifics to myself as it's not my place to share.  He loved his wife.  I think he looked up to her.  He was such a good example.
Over the course of a year, I had made some really close friends.  Steve and I remained close because even after our classes were done, I got to see him all the time, dropping off his daughter at the theater.
One day, he pulled me aside and said "I think I'm going to open up my own theater.  I really enjoy being in shows and my daughter really enjoys it too.  I want to spend more time with my kids and this theater might be a way to do it."  I thought it was a fun idea and encouraged it.  He was taking on a business partner that had been doing this for a very long time and I knew the two of them would shine.  Sara Perry and Steve Dubin opened Center Stage Performing Arts Theater; Sick Puppies Comedy current home.  But we didn't go there directly.
We were looking to move to a new home as well and were recruited by Steve's best friend up in Delray.  So we temporarily made the move there.  Steve was never upset or offended by the fact we didn't go to Center Stage at first.  It's like he knew that we would end up with his theater eventually.  He was patient like that.  After a few months in our new situation, I called Steve and Sara, checking out our options and upon my first visit, I was blown away.  Steve said "welcome home".
Sick Puppies Comedy would not exist today if wasn't for Center Stage Theater and the encouragement of Steve Dubin and the support of Sara Perry.  I remember in the beginning, all 4 of us (Allie too) were just trying to figure this thing out.  I had a degree in theater management, Steve was a sales manager, Sara and Allie clearly had the experience and we all had passion.
Some of the most fun I ever had was in meetings with Steve.  The two of us trying to figure out ways to drum up business, drive traffic and build our companies separately and together.  It was a real struggle for him.  He was working a full time job that was beginning to have some success and he was facing the same debate I faced:  choose one or the other.  Eventually, it was clear that his career was going to take over and I didn't get to see Steve as much.  In fact, very seldom. The last time we spent quality time together was probably 6 months ago.  We ordered lunch.  We caught up.  Business was good for him.  His wife was doing great things at her job.  The kids were succeeding.
We passed each other far less after that.  His daughter didn't need her Dad to escort her out.  He could just wait in the car for her.  I'd catch him for 5 minutes here and there and we would always say "we have to catch up".  We didn't.   Steve was a guy with no enemies.  It's hard to be mad at the guy that always gives everything away.  "Here", "no, I got this.", "No Casey, you deserve full price." He took responsibility when things were his fault and took responsibility when it wasn't.  He was honest.  He was one of the few truly genuine, kind people that this planet is going to miss.  I am a better person because of Steve Dubin and if you've ever felt like one of our classes or shows had a positive effect on you, it's because of Steve's influence on us.
We are devastated and empty.  Normally when I read these things, they end it with "hug your loved ones" or "tell people you love them".  I'll make it really specific.  Go look at your phone right now.  Navigate away from this article if you need to and find the first person in your contacts that makes you think "I haven't talked to this person in a while.  I should call them." and call them.  Just one person.  Just one call.  I know I will be doing a lot of that in the coming months.  We love you Steve.  You were One Sick Puppy. And damn funny.
The doctor is in and she's ready to tickle your funny bone. Ok, so not quite Ken Jeong but she's something. Mary Squire started improv while having the life force drained by an OB/GYN residency. While at first it was just an attempt to stay human, she found a love for those special ephemeral moments created between the improvisors and the audience during each performance. Fun fact: at age 15, she pierced her own belly button with a sewing needle and ice. It got infected. The end.
We are so excited to have another doctor on board.  Mary brings incredible sarcasm, natural intelligence and sharp sense of humor to our team.  We can't wait to have you come out and see her soon!
John Duffy 2013: Loud, brash, crazy, clownish, quasi-insane student.
John Duffy 2017: Pillar of Sick Puppies Comedy, One of my very best friends, incredibly talented actor, invaluable instructor and relentless improviser who is also loud, brash, crazy, clownish and a full insane person.
He became an official cast member in January of 2015, but was part of our DNA well before as a student and consultant.  John had gotten his masters degree and asked if he could build a business plan for Sick Puppies Comedy in 2014.  Of course, I said yes, but didn't think much of it until he presented it to me.
That summer, John was part of a sales team I had assembled in hopes of attracting new business, new audience, new students and new venues.  Overall, the project failed because I couldn't coach it or manage it, but it inspired John.  He started to ask "what if?" What if this succeeded?  What if we grew bigger?  What if we could get more?  He was this voice in my head that said "We can do more."
Within a few months I quit my job because I believed him.  He was right.  We added him to the cast and he quickly became one of my favorite people to be on stage with.  Some nights, he had an endless amount of energy and your job as a scene partner was to let him shine.  Other nights, he provoked your inner demons to visit a show.  He saw you for exactly who you were and who you are and never held back when he needed to say something.
There was a scene I was in with Julie Cotton and John that I will never forget.  It was what I believe improv perfection to be.  Completely lost in character, lost in scene and lost in joy.  I wanted to live in that 15 minutes forever.  None of us were able to hold ourselves together and I can remember each moment of that night line by line.
John created our house team "Daddy's Little Nest Egg" that has been to a number of major festivals and is a regular monthly show at Sick Puppies.  He was a visionary for it.
He was easily one of the student favorites when it came to teaching. He even started his own series of classes in Fort Lauderdale and many of them are fans that only come to see shows when he is in them.  John knows how to inspire you and make you feel special.
John and I have worked on so many side projects and ideas together over the years.  SPC news, auditions, podcasts, marketing ideas… John built an entire commercial for Sick Puppies Comedy just three months ago.  He is selfless.  He's too generous.
Then John found a new love.  Film.  And it took him away.  I knew before he did that his time as an improviser was limited.  When he called me two weeks ago, I already knew and I was so happy to hear him declare exactly what he wants and how he wants to get it.
Improv is an art form that very few of us are fortunate enough to "live" in.  It seems as though it is a transitional time in most people's lives that helps them find their voice, their point of view, their value and their strengths so that they can grab onto the next thing confidently.
I am so grateful for John and what he has done to build up this company and community and will miss seeing him every week at practice and shows.  We will continue to work together on other projects and hopefully share the big screen together some day.
Please join us tonight at 9PM and purchase your tickets in advance to see John's last show with us.
We love you John John Duffy – www.johnjohnduffy.com
Casey
Image Posted on
We are so excited to have Sarah Hendricks join the Sick Puppies Comedy Cast.  She's a real pleasure to work with and just the kind of sick mind it takes to deal with all of us.  Welcome to the cast Sarah!
Sarah has always loved performing, whether it was theatre, dance or just tap dancing down the isles at Costco to see how annoyed she could make her mom. She graduated from Florida Atlantic University in 2010 with a BA in Multimedia Journalism, in hopes to become the next Guiliana Rancic, and has done nothing in the industry since. Instead, she pursued marketing, public relations and events, occasionally dabbling in comedy. It wasn't until she was introduced to Sick Puppies that she fell in love with improv. Sarah is honored to be a part of the Sick Puppies cast and continue to make people smile!
Friday night.  Prime Time. In New York City.  It's the place. THE PLACE.  It's year 2 for Sick Puppies performing at DCM.  This year the team performing has dedicated themselves over the last 2 years to become an entire entity of their own: Daddy's Little Nest Egg.  Comprised of John Duffy, Eddie Seage, Nick Henriquez, Aaron Blye and Ben Brouckaert, this team has figured out their own style, their own vocabulary, their own following and their own culture.
This team has their own show at Sick Puppies Comedy once a month and every month has gotten better from the last.  4 of the 5 players (John couldn't make it) are in New York right now getting ready to hop up on a legendary Upright Citizens Brigade stage for a 7PM showtime for arguably the largest improv festival, DCM.
The dedication these guys have for the craft and each other is inspiring.  They brought on Kat Kenny of Bob Carter's Actors Rep/Kat Kenny Improv as a coach and that was easily their smartest move so far. Kat is a real joy to improvise with, but she is another level as an instructor.
As the director of Sick Puppies Comedy, I could not have imagined the strides we have made in the last 5 years.  Daddy's Little Nest Egg is evidence that our improv community is working together to create something far bigger than any one individual.  I have learned so much from our cast and students and whether they know it or not, they fuel me every day to be better as a director and as a player.  I am so proud to be part of this company and lucky to call Daddy's Little Nest Egg part of Sick Puppies Comedy.
Knock 'em dead gents.  We are so excited for you.